On the 26th August we set up our summer camp at Thorrington Scout Camp Essex, starting on Friday 27thmorning and finishing Monday 30th
The theme of the camp was "A New Season"
From the very youngest we catered for all ages, these little ones are all under two years.
All meals were catered for, with everyone taking turns in cooking the meals over 250 meals served over the weekend.
Of the many activities organised over the weekend Archery, Bonfires, Boulder Climbing, and so many more, Go Carting was a great success too!
Team building was the great afternoon event each day, all the exercises were to be centred around helping each other towards a common goal.
We gathered in the marquee ready to worship Jesus.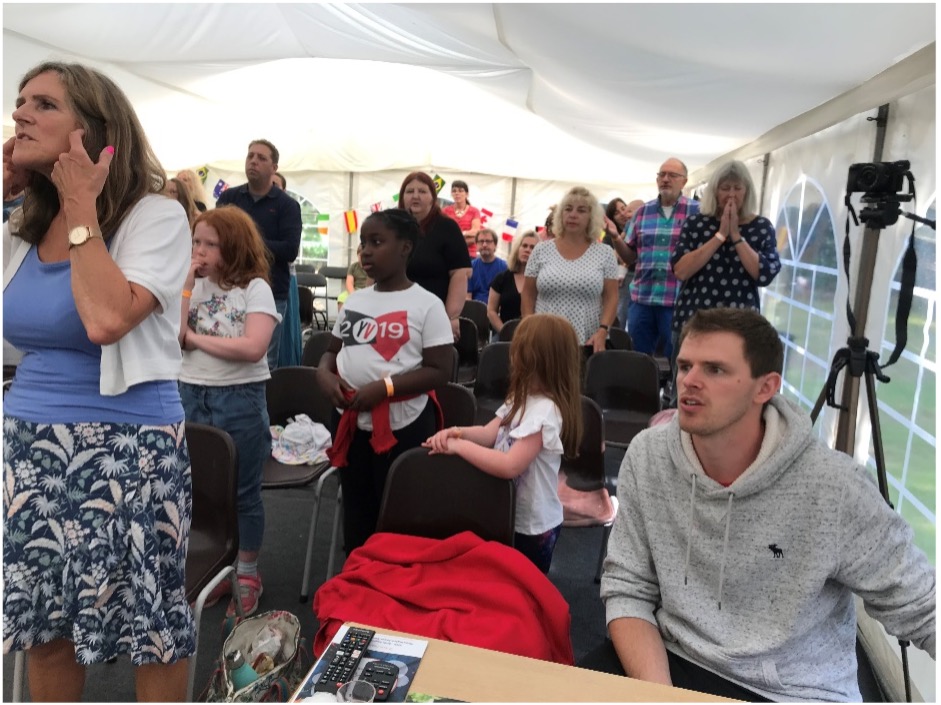 Miracles at the Summer Camp
A lady phoned Karen to say that her daughter had been given a hospital appointment for the Sunday, Karen said to ask them to change the date – they replied no chance – we prayed and by the end of the day they came back with another appointment on a different day.
Karen was also concerned that one man and his children would not come with the boys – at Tuesday prayer evening he needed a carpet layer as the one he had was coming Friday of the camp. We prayed and on Wednesday he phoned to say one was coming tomorrow, we also prayed that moving would be made easier. Karen also prayed that this man would find no rest until he came to the camp – this man came to his wife on Thursday evening and said I can't get any peace about not going to the camp. He made it by 12 noon on Friday after driving 180 miles!
13-year-old boy who we didn't know and really didn't want to be at the camp in fact before he got to the camp, he asked the driver if he would take him home. A turn around came when I asked him to chop down trees. Sunday evening, he didn't want to leave and asked his Dad if he could come back next morning (Monday) for archery. He did.
Single mum with two children was the first person to book. Mother faithfully booked with oldest saying "I don't want to go". Even on the day he didn't want to be there.
This is the text message from his mother….
Hey everyone, God has worked a miracle in my son. We got in the car, and he said "Mum are you going to get me a bible? There's some good quotes in there". He's raving about how great camp was "best thing that's happened this year", and how much more confident he feels. Keeps saying how it felt like a community. We went into town together and he was able to speak to shop assistants and to someone I knew that he didn't remember. These are all huge achievements for him as he had been having anxiety and struggling. He talked lots about Sam and his testimony and wants to do Duke of Edinburgh award. Oh, and he's up for an Oak Hall holiday!
Miracles upon miracles!
Another was a lady whom we have known for some 14 years a very, very infrequent visitor to Friday Church. She just sent her two daughters along; they had a great time. Text message she sent us…. Thank you so much everyone. My girls had a wonderful time, they loved every bit of it and are already looking forward to the next one.
James & Lucy Full time Christian workers for Truth Planters in Wales, just had a baby and learnt so much about family and bringing up children. Text message… Hi Paul and Karen! Lucy and I want to thank you both for your love and leadership over the weekend. There was a lovely sense of true fellowship with everyone, and we were so blessed to be part of everything. You guys nailed it and our main take away was how family focused the weekend was! Having other mothers and little ones around was such a blessing! Love you all! God bless.
Colin & Lynn travelled in each day Friday, Saturday & Sunday, on the journey in on Sunday they collected Tina and, on the way, saw a young lady trying to jump off a bridge, being restrained by her friend. They stopped and Colin & Lynn prayed around the situation while Tina talked with her both until the police arrived. And the situation was calmed.
The next camp is in Summer 2022, if you'd like more information then please contact us.