I thank my God every time I remember you. In all my prayers for all of you, I always pray with joy because of your partnership in the gospel from the first day until now, being confident of this, that he who began a good work in you will carry it on to completion until the day of Christ Jesus. Phil 1: 3-6
There is so much to tell you this month – God has been mightily at work!
Paul talked out of his personal experiences of finding out the secret things of God. Talking from Proverbs 25:2-3 It is the glory of God to conceal a matter, to search out a matter is the glory of Kings. Paul encouraged us to draw closer to God to understand more deeply His character and His ways. We also shared communion as a church family.
Marcell a team member of Truth Planters Hungary and a church leader in Budapest, challenges us to Return to Jesus, he asked how hot are we? Asking us to check our hearts to see if we had picked up any modern-day idols that we were putting before serving God. In our interview Colin one of our congregation, a retired fireman talks about highlights in his Christian walk which has been over half a century.
Hannah talked on "The Beauty of Obedience" highlighting her past struggle with food and the lesson the Lord taught her and shares how she encourages her children in the lessons that Christ has taught her about obedience.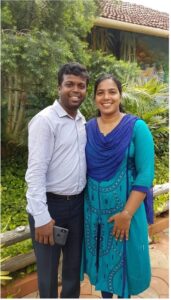 Also, in this YouTube service is an interview with Frigi who lives in Southern India, giving us an update on what is going on in that country. Frigi is seen here with his wife Sinimol.
Pentecost Sunday, we had David Steele giving the talk on Pentecost-the day the church was birthed when God poured out His Holy Spirit and why this is essential to us today and how we can experience Holy Spirit.
We also had an interview with Lorna who is currently doing the series Fulfill Your Calling with us, and so enjoying life after finding Christ, coming into a relationship with Father God and being set free from addictions through the power of the Holy Spirit.
We released a short video called "The Promise", it explains the promise and the fulfillment from Father God that He will give us His Holy Spirit.
Jessica Diehl from Florida gave us some real insight into prayer, and how we can be more effective in our prayer life.
What else happened in May?
We held our Team Meeting live for the first time in 15 months outside, (covid regulations) it was great to see everyone and plan ahead for the next stage of growth in Freedom Church.
As a church family we were able to support some of the Truth Planters team in Hungary. They have been experiencing difficulty with meeting their financial needs due to the pandemic. Both were greatly encouraged by the gift.
Thank you all so much for your support both through prayer and financial giving. We are so blessed and encouraged that you are with us as we seek God for the way forward and to bring His kingdom here on earth.
May the Lord bless you and keep you.
Paul & Karen