The month of June has flown by. We started off the month with a seasonal break in Devon, at a house set aside for church pastors, lots of walking and a second go at paddle-boarding. We interview the owners next month about their vision.
And we have welcomed our second granddaughter Breanna Rose born to Liam and Sarah!
God has been mightily at work!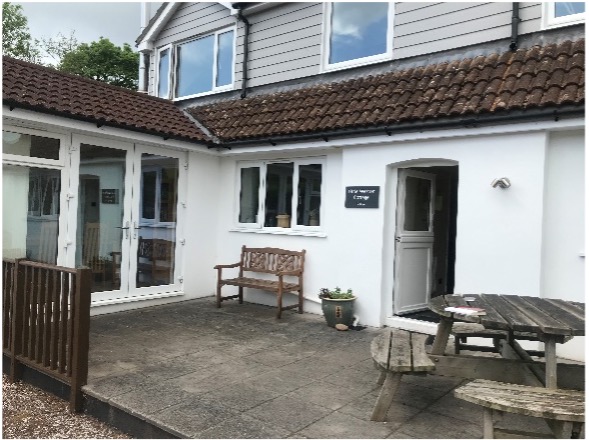 Josh gave the talk entitled "He Was Always There" giving us insight into Moses life, and his cry 'unless you go with us, we won't go!' from Exodus 33:3 and he left us with the question "What expression of the Lord's presence is in store for you as we continue in 2021?" reminding us of that lovely John Wimber quote "Everyone Gets to Play."
Josh is living in USA, married to Kelsey and they have 5 children.
Karen interviewed Paula who set up a Trauma Centre in war-torn Chechnya, Russia in the 1990s. Paula's book called Miracles in the Midst of War was released by Sovereign World on 23 June 2021 which describes her work as this:
Then God leads Paula to a region devastated by war. You will discover that right in the midst of great pain and suffering, Jesus is working miracle after miracle, time and again rescuing Paula and friends from danger, providing for orphans, widows and refugees, and healing those broken in body, mind and spirit. Along the way God restores Paula herself from childhood abuse and trauma.
In this teaching Christian asks the question "Don't You Care?" Starting with Peter the fisherman in Luke 5:1-11 who walks away from the catch of a lifetime, and Zacchaeus who gives money away and Mary pouring expensive perfume. People would wonder and ask "Don't You Care?"  Christian draws out that those things no longer preoccupied them, something had eclipsed those things in their life. The beauty of Jesus. Listen and enjoy.
Christian is married to Lucy and they have a daughter Evangeline and celebrated 5 years of marriage this month
The follow-on interview with Paula describes where God has led her now. Leaving the established and growing centre in Russia, God led her to Gran Canaria where she brings the good news of Jesus to the homeless and refugees and is seeing people coming to Christ!
Paula is a single lady who adopted three girls in Chechnya, who are now married, and Paula is now a grandmother to 5 children.
Fathers in faith – Paul looks at fathers of the Bible- some with qualities we admire and some we find difficult to take. But considering our own fathers -their strengths and weaknesses, Paul encourages us to say, if possible, to our fathers "I love You". Forgiving and honouring them in the condition that will give us the blessing and long life. He also extended the challenge to men "who's spiritual father, are you?"
Sunday 27th June, we met for the first time in person and on Zoom too! Meeting in a marquee in our garden, it has been 15 long months since we gathered together, all the technical side worked well, so all the friends that we have gathered over the last 15 months were able to join in via Zoom (of our youngest worshiper and picture just before we started)!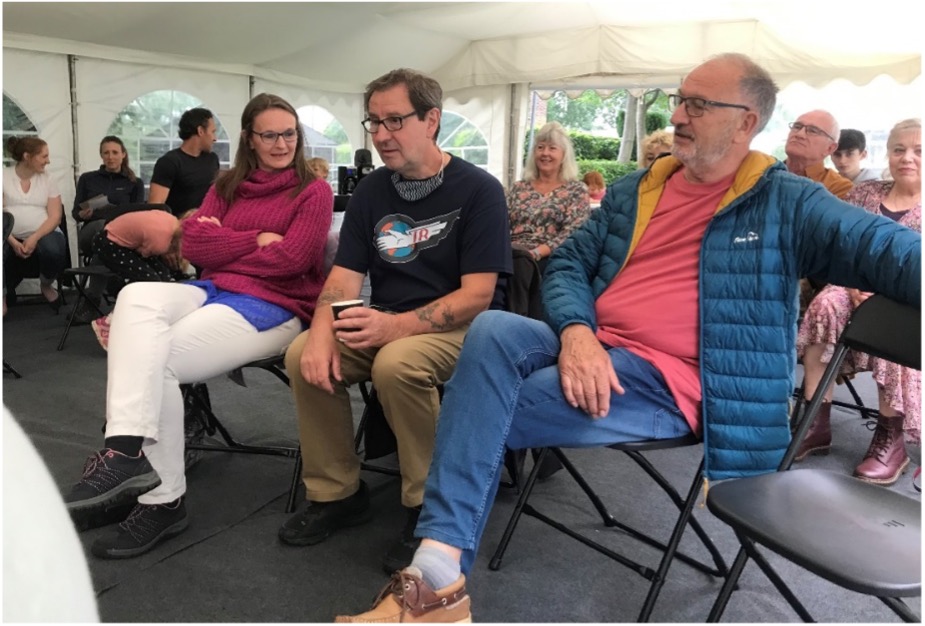 On this first Sunday as a new church Paul talk was titled "Just Another Day?" encouraging all to look for the Lord in each day of our lives, God is at work, but we can miss Him if we are not looking. We will be meeting in the marquee till the end of August.
The work goes on nearly all the time. Here is Karen being interviewed by Truth Planters Hungary on how to deal with loss & grief. This will be available by Truth Planters on YouTube in September. We will let you know when.
Isaiah 43: 19. See, I am doing a new thing! Now it springs up; do you not perceive it? I am making a way in the wilderness and streams in the wasteland!
We believe this!
Thank you so much for your continued support and love.
May the Lord bless you and keep you!
Paul & Karen